Envelope format
The following picture shows what an addressed envelope should look like. The horizontal lines represent lines of type. Click your mouse pointer on any part of the picture for a description and example of that part.
Follow this format regardless of letter style you used.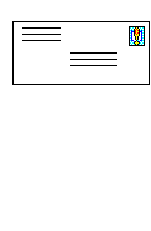 This envelope addressing convention is used in English speaking countries. Other nations may have different formats.
---
---
Copyright©1997-2006 English Plus, All rights reserved.
---